With any new undertaking, there are a list of goals a company is working to achieve. Below are the goals and objectives KCI is committed to achieving for your organization through your project implementation.
Krueger's Voice Implementation Project Goals: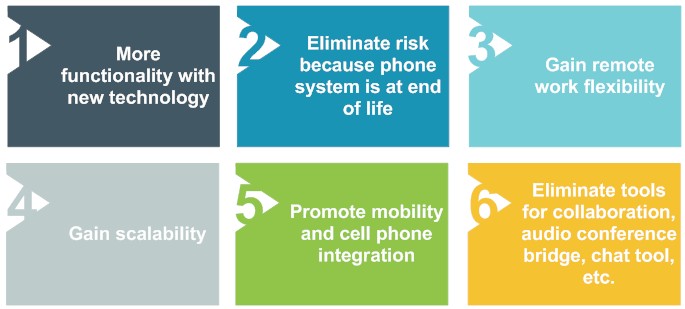 It's important for our customers to understand the potential impacts to their business during their voice deployment. This allows you to properly prepare. Below is a list of the potential impacts that may occur during your Voice Project Deployment.
Organization

Impact to and Participation of Organization

Customer

Down Time:

Phone Placement: VoIP phones are usually placed in line with existing end user PC. When the phone is put in line, there is a brief interruption of network resources (file shares, internet) for the local user. Site contact or KCI will request user save all files before putting phone in line.

Number Porting/System Go Live: There will be minor downtime of carrier services while your numbers port to the new provider or when carrier services are switched to the new voice solution. This will include inbound and outbound calling for a period of 5 minutes to one hour, depending on the carrier services configuration. Typically, your new endpoints will be placed in parallel with your current phones, minimizing impact to your organization.

Customer

Discovery:

Customer will need to provide Krueger with documentation (as much as possible) of existing systems and user lists for pre-discovery work. For the onsite discovery meeting, KCI will coordinate with our primary contact to review the extension information in addition to how the calls should flow through the system. The customer will need to participate in this meeting, and should have team members in attendance that a) know how the current system works, b) know the organizational technology goals and how the voice solution fits towards those goals, c) can make a decision or coordinate decision making on new system configuration.

Customer

Device Placement:

Customer will need to have resources available while placing physical devices to user locations. Involvement may be anything from placing phones to moving furniture or showing KCI team where users are physically located. Resource should be available during entirety of placement (normally less than 1 day).

Customer

Software Deployment:

Customer will need to provide IT support services for deployment of desktop and mobile software. KCI will conduct train the trainer sessions (typically 2-3 users with session lasting about 1.5 hours) on deployment, setup and configuration of desktop and mobile apps. Customer is responsible for making determination of which users will receive services and deploying applications to their PC's or mobile devices.
Milestones are a powerful component of any project. They show key events and help show movement on your project. They act as a signpost through the course of you project, ensuring the project stays on track. Below is a visual depiction of the key milestones for your Voice Deployment Project.

With any project, there are certain assumptions made upon the initiation of the project. Below is a list of assumptions that have been made in regards to your project.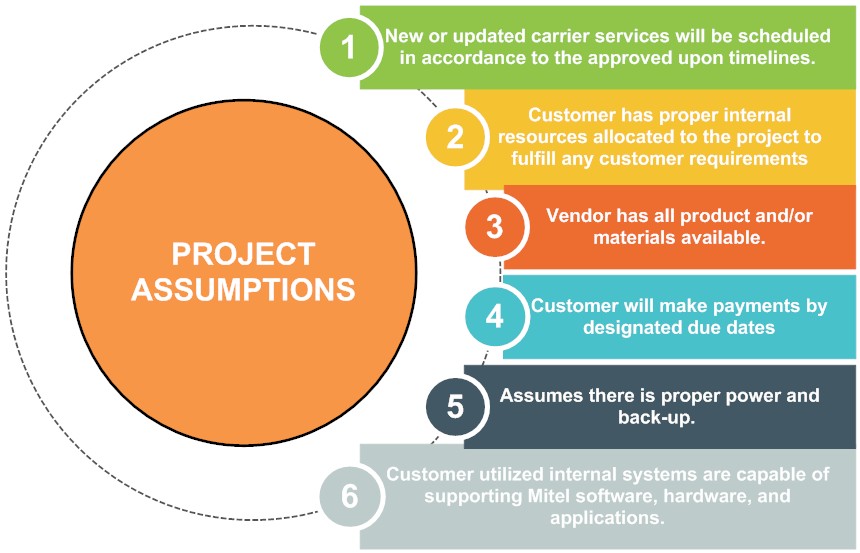 The following table details specific risks associated with a typical voice deployment project. If there are additional risks associated with your particular project, your Project Manager will detail these out separately.
#

Risk Area

Likelihood

Risk Owner

Project Impact – Mitigation Plan

1

Outside vendors and/or Carrier services will not be available when required for the agreed upon project timeline.

High

Project Manager

A carrier delay can greatly impact the project causing long delays. To mitigate this risk, we would adjust our carrier approach to a temporary basis. If the carrier date prolongs your Go Live Date, we would formally discuss using a temporary carrier services to ensure your project timeline.

2

Customer does not have designated resources available internally to complete tasks as required to keep the project progressing as agreed upon with the project timeline.

Low

Customer Resource

It is imperative the customer have a designated resource to complete tasks. If no one is available and your project is delayed because of it, your progress invoices may be created based on the estimated dates originally set and will be due upon receipt.

KCI may not be always be able to accommodate the new Go Live date due to prior commitments. KCI will work with the customer to find a mutually agreeable date.

KCI will work with the customer upfront to fully understand and be aware of the impact.

3

Customer demands will require a new Go Live date to be scheduled

Low

Customer Resource

If a new Go Live date is requested by the customer after one is already agreed upon, KCI will make every effort to meet the customer request. However, potentially due to prior commitments, KCI may not always be able to accommodate requests and will work with the customer to find a mutually agreeable date. KCI may bill the project out in full on based on the original Go Live date. Payment for this invoice would be due upon receipt.

4

Customer information required for project completion will not be gathered and returned in a timely fashion.

Medium

Customer Resource

If information is not returned timely and leads to a delay, the customer may be billed based on the estimated dates agreed upon.

KCI may not be able to accommodate the new Go Live Date due to prior commitments. KCI will work with the customer to find a mutually agreeable date.

5

Customer does not make timely progress payments during the project life delaying project timelines.

Low

Customer Resource

This will delay or prevent product delivery and Go Live. KCI will make every effort to remind you of these invoices to ensure they are not overlooked.
Every project is bound by the three main project management constraints. These are budget, time and scope. Managing your project may include trade-offs or compromises between multiple constraints in order to keep your project moving successfully. If any trade-offs are required, your Project Manager will be in contact to discuss what option best suites your situation.
To help better understand the basic principle behind the "Triple Constraint" theory, we'll give a generic example. Perhaps you are moving into a new building that is in the process of being built out. You have set specific dates with your project manager to keep everything moving forward. However, you find out that things are moving faster in your build out than expected and you must push up your Go Live date unexpectedly. This falls into the time constraint. Because work must be moved up and completed faster than expected, then the cost constraint is affected. In order to meet your new, sooner, date, more resources will be required which will require an increase in the cost to the labor of your project.
This is just one example of how the "Triple Constraint" theory may affect your project. Again, if any compromises need to be made, your Project Manager will contact you as soon as possible to discuss.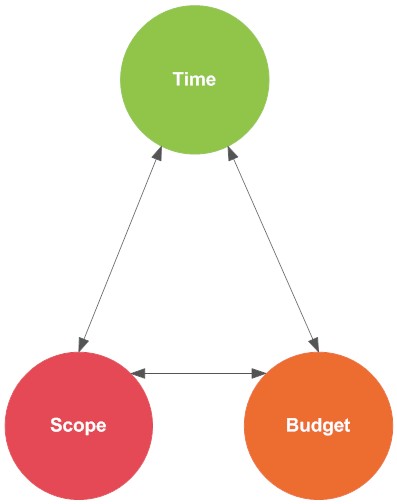 KCI's Proven 5 Step Project Process
Discovery
Telephony information is gathered from your main site and any associated locations.
We will also look for inefficiencies in the current configuration and discuss your requests for new solution design.
Tentative project timelines and schedules are discussed.
Design
Your new system will be designed, reviewed and approved during this phase.
Network recommendations and design changes will also be covered.
Any remaining change orders and product procurement (release) are processed.
Building & Testing
Any applicable networking changes or network hardware installation (if included) will be completed.  Pre and Post Testing is completed.
By the conclusion of this phase, users, call routing, auto-attendant routing & greetings, reporting/recording software and carrier services will be configured, tested and ready for go live.
Go Live
As close to or on the cut-over day, KCI will train users before go-live. Typical pre-deployment training includes basic phone use (making, receiving, transferring calls) and voicemail access.
On the date of go live, KCI will manage the moving of carrier services and call routing to the KCI solution. KCI will have team members at your location(s) to ensure your business is able to communicate, answer any user questions or make system adjustments as necessary.
After Go Live, users will have the ability to make calls, receive calls and access voicemail.
Follow-Up & Support
After successful deployment of the new voice solution, you will have a 45 day support period. During this time, minor adjustments to the call routing and overall system design, key and name changes, voicemail changes and other non-add on requests will be covered.
Also during this time, administrative training (to manage day to day changes to the phone system), advanced feature training (train the trainer) will be completed. KCI will also require a 911 test from each location and an acceptance from your company.
Have Questions?
If you have any questions about your project or next steps, don't hesitate to contact us!